New Players Wanted
PLAYERS WANTED
MENS, LADIES & JUNIORS
We regularly field two sides on a Saturday in the Fullers Brewery Surrey Cricket League and a Sunday XI that plays in the Village Cricket League. Our Junior section runs teams from U5 to U15 for boys and girls of all abilities and the Colt Friday evening net practice is always very well attended.
We have also launched a Ladies Team which had a very successful debut season in 2018 and we are looking to grow this section in 2019 with more fixtures and regular practice sessions at the club.
AT OUR CLUB, WE HAVE A CLEAR PHILOSOPHY GEARED TOWARDS PROVIDING CRICKET FOR ALL.
This encompasses a welcoming and friendly atmosphere where everyone is encouraged to enjoy themselves, and supported to improve as cricketers. Nobody is selected to be simply making up the numbers and skippers are always making sure that everyone is involved in the game and contributing to the result.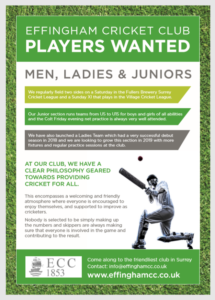 Please review the membership pages or simply Contact us to find out more.
We look forward to welcoming you in 2019.
Comments are closed