Surrey U11 Indoor League Champions
EFFINGHAM U11/12 COLTS TRIUMPH IN INDOOR FINALS
On Friday evening, a stunning performance in the field by Effingham U11 colts in the final of the Twenty 20 junior indoor league, meant a victorious end to an exceptional season. The team had remained unbeaten in the 9 game league format since its start back in October, and this was followed up with 2 more wins on play-off finals night. Over the season, we were undoubtedly the most consistent all round team with great strength in depth, so our victory was fully deserved.
We first played Ewell in the semi-final, restricting them to 99 all out, just short of their 15 over allocation. The wickets were spread amongst the team along with run outs from Sam Partridge and Callum Noonan. The batting reply was steady, and although we lost Samuel and Joshua Spencer fairly early on, William Burbidge played nicely on his way to 26 before retiring. Sam and Callum Noonan saw us home without taking any risks with 2 overs to spare.
The final, as anticipated was against Weybridge, who included 3 of the best performing batsmen in the league. I asked the boys to really focus on their bowling accuracy and try their best not to give away too many needless wides.  They responded with the most controlled spell of bowling of entire competition. Consequently, Weybridge's batsmen were unable to impose themselves and runs were difficult to come by. Samuel took an edge behind off Sam early on and Joshua caught the dangerous Henry Francis, also off Sam. When William bowled Ollie Feast, Weybridge were reeling at 50-3. A recovery never really materialised, and with the introduction Samuel Spencer, Weybridge's last three batsmen were all dismissed in the 15th over, only scoring 87. Effingham's reply was careful at first, but once Raymond Wing and Callum had played themselves in, they started punishing the bowling. Callum did most of the damage, retiring on 26 off 12 balls, and although Raymond was stumped off a free hit, and Sam spooned up an easy catch, Joshua and Samuel took us to the target with no real problems.
The indoor season has been hugely enjoyable for the players and I anticipate that the regular games will benefit the boys when they start outdoor cricket.
Darren Wing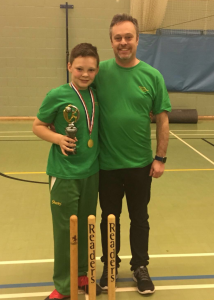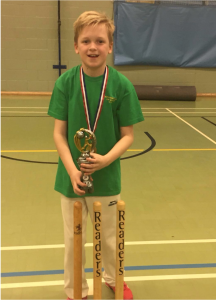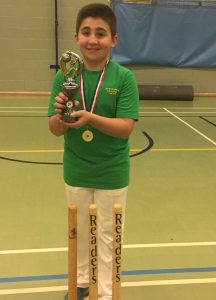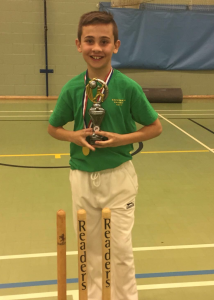 Raymond Wing
Raymond led from the front and organised his team well, ensuring that the team were fielding in the correct positions. He also took on board the philosophy of inclusion, so that everyone was involved in the game; sometimes batting last to achieve this. He settled into the role of an attacking batsman, often taking on the opposition's best bowlers with destructive results. When paired with Callum Noonan, they were a potent force and were key players in a particular match where a record 203 runs were scored off 15 overs.
He scored 122 runs at an average of 30.5 and a strike rate of 132. Raymond's bowling was initially erratic during the early part of the season, but it became more consistent in the later half, picking up some vital wickets and finishing in the league top 10 bowlers. He took 6 wickets with an average of 25 and economy rate of 6.8. His fielding was reliable and often took over the wicket keeping duties to allow Samuel Spencer to bowl. He took 7 catches, 1 run out and 1 stumping.
Callum Noonan        
Callum brought some real quality to the team, and worked well with Raymond to discuss in-game tactics. His batting showed great temperament, but when in attack mode, the ball started flying to all parts of the hall. He would have easily been the highest 6 hitter in the league if it were not for his ability to clip parts of the ceiling, including sending the ball through a basketball hoop on one occasion.
He scored 150 runs with the league top average of 75 and a strike rate of 145. Callum bowled fast initially, but with the strict leg-side wide rule, he sometimes didn't get the rewards he deserved. However, when he slowed it down, his control returned, making it difficult for the batman to score. He took 7 wickets at a 31 average and economy of 7.7. Callum's fielding was exceptional and set the tone with diving stops and a safe pair of hands with 7 catches and 3 run outs.
William Youster
William helped us out on a couple of occasions, and showed what a promising cricket he is. Playing with a lovely orthodox straight bat, he played his part with a fine 17 not out in one game to ensure victory. His bowling was consistent and was not out of place in an older age-group team. He usually fielded at point, and demonstrated his agile abilities with a great reflex catch and great stops. He took 2 catches in 2 games.
Sam Partridge
Sam has really developed over the indoor season as a bowler. He undoubtedly is the quickest in the team, but he has also been able to do this with good control and accuracy. His 7 wickets at 14 and an economy rate of 5.7 is right up there with the best players in the league. Sam's batting has also been good with an ability to maintain the scoring rate without having to blast the ball to all parts. He also shows a great anticipation for the quick single, although this has backfired a few times.
He scored 112 runs at an average of 22 and a strike rate of 138. With 5 catches to his name, it proves that Sam was in the thick of the action. There were also a 2 excellent run-outs that he pulled out of thin air.
Finn Williamson
Although Finn only played a single game against Weybridge, he deserves a mention as this game was careering towards a heavy loss at 12-3 chasing 160. He soon found himself as the last remaining batsman with the score on 86, but then proceeded to fight a lone battle striking 7 6's on his way to by far the highest score in the season of 80 and enable an unlikely victory. The odd thing about his winning run was that he was caught off the wall, but with the wall strike counting as a single before the catch was taken we found that we had won in all the confusion.
Joshua Spencer
Joshua looks the most refined batsmen in the team, often producing text book off-drives. The 4 6's to his name shows that he can attack, but he was a little unlucky with some of his dismissals where the ball kept very low. Like his brother, his job was often to see the team home and play with caution, as appropriate. He scored 72 runs at a 24 average and a strike rate of 126. Joshua is very much a confidence player, and this was evident with his bowling, sometimes allowing a bad wide to get to him. He should try to overcome this and have more belief in his abilities, and that will allow him to bounce back from setbacks more easily.
He took 3 wickets at 38 and an economy rate of 7.2. My favourite moment from the final was Joshua's catch to dismiss Weybridge's best batsman. Following a disappointing under-par over, he immediately took the sharp catch at extra cover. He knew, as did his team mates, the importance of this key wicket and it was a delight to see the whole team rushing to him in congratulation with plenty of smiles all round. Joshua took 2 catches in the season.
William Burbidge
William has always been a consistent player without really showing what he can do. The indoor season has enabled him to come out of his shell with the bat and play some lovely straight attacking shots. His 4 6's this season is evidence of this other side to his play. He scored an impressive 104 runs at an average of 34 with a strike rate of 114. William has a lovely fluent bowling action, and early on it was clear that he was one of the few in the team to be able to bowl with regular consistency.
He never perhaps got the wickets he deserved but finished with one of the best economy rates in the league. William took 5 wickets at an average of 24 and economy of 6. Having made his square leg position his own, William picked 3 fine catches during the season and stopped the ball on numerous occasions from hitting the wall.
Samuel Spencer
One cannot underestimate what Samuel brought to the team. The stats reveal that he was a steady batsman, often backing up his teammates to ensure victory with some clever running between the wickets and shot positioning. He scored 73 runs at an average of 24 with a strike rate of 104. Often starting as wicketkeeper, he thereafter moved out into the field to bowl a few overs; this he did with devastating effect. In a number of matches, Samuel's magic arm just made things happen. His action produces an accurate loopy ball pitching just in front of the batsman, and no batsman seemed able to play him with any confidence.
His 12 wickets at an average of 9.2 (7.8 economy) was the best in the whole of the 3 junior divisions, but when you factor in that he bowled half the amount of overs of most of his contenders, then you understand his value to the team as a key player. If that was not enough, he finished top of the fielding stats with 9 catches and 3 run outs, often willing to take the skin off his elbows to make a diving catch.
Leo Spall-Cordes
Leo played in one game and did particularly well. He bowled 3 overs and took 2 wickets to dismiss both Hampton Wick openers. He then was called upon to bat in the mid-stage of an innings, and together with William Youster, put on a fine partnership of 41 to see us home with 3 overs to spare.
Comments are closed